Ever since our passionate tryst at the 2012 Field of Beers in Jupiter, Florida, Laura and I have been pining for more Coolinary Café culinary wonders. We were disappointed to find that Coolinary Café wasn't yet open at the time of the Field of Beers, but we vowed to remain vigil in light of its impending foray into the Palm Beach gastronomic scene. Day and night, night and day, I followed Coolinary Café's updates on FaceBook until that momentous day when the doors were opened to all, yours beerly included. I'm reluctant to admit that it was even longer after opening that I was able to make the trip down, but my absence was well rewarded in pint after pint of delicious craft beer and plate after plate of fabulous foodie nirvana. Coolinary Café is an easy no-brainer drive south we will be making as often as we can because Mr. Tim Lipman is the whole package and Coolinary Café is his homage to the slow-food gastro-pub live-local less-is-more sustainable eco-conscious movement that is reclaiming its rightful place in our hearts, minds, and bellies. In this dangerously fast-paced cold corporate world we live in, it is our dutiful right to demand a return to prosperity within the embrace of good will, good food, and good beer. As for those who live within mere miles, you owe it to yourself to partake of their luscious libations and delicious dishes as often as time and money permits.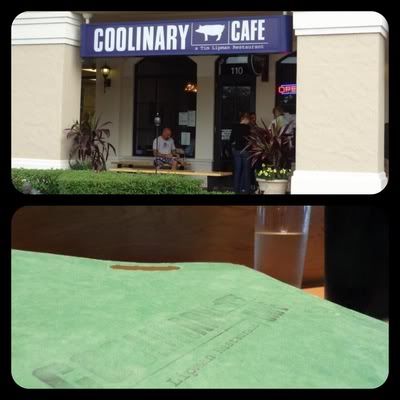 Located in a relatively new shopping plaza on Donald Ross Road across from Roger Dean Stadium, Coolinary Café occupies a small storefront I would be surprised to find totals anything more than 1000 square feet. Walking in, one finds themselves drawn into an open space occupied by a small scattering of strategically placed tables and chairs while the kitchen supports a long bar to rest one's elbows on. Further back is a mini-bar complete with Coolinary's 5 draft offerings along with boutique wines and hand-crafted sodas. Seeing as I am the Beer Ambassador, when asked about his draft selection, Lipman spoke these simply wise words: "No crap on tap." Amen, hallelujah, and peanut butter! With only 5 taps one might wonder most credulously how they can keep their draft selection new and interesting. Well, that my dear Watson is actually quite easy – rotation, rotation, rotation. Personally I'd rather see a bar with fewer taps that rotate on a rigorously regular basis than a bar with plentiful taps and meager rotation. The world of craft beer oozes diversity and any craft beer bar (and restaurant) worth their malt and hops respectfully and enthusiastically recognizes this by constantly offering new and different suds to be savored in your glass. What's on tap? Stop in and find out; you can't lose because it will always be new and it will always be fresh.
And while I'm on the subject, let us talk about fresh and local – you can't have one without the other. Not an immediate point of interest, nonetheless, once inside Coolinary Café your eyes can't help but be drawn to a sizeable chalkboard replete with local resources for herbs, eggs, cheese, beef, poultry, produce, fruit, citrus, honey, wild game, etc etc… How fresh? So fresh that while Laura and I were there the chalkboard was updated live with a new local purveyor of cheese. How local? Every single person/place/business was in Florida, our wonderful sunshine state that, by golly, may finally be embracing real food really good from equally passionate and hard working men and women who make their living with the land, not off it. In rapt attention, we listened to Lipman talk passionately about working on their farms, picking plucking planting and supporting these fine upstanding folk was enough to put a tear or three in our eyes. This isn't a fad, a phase, a passing quirk – this is real – as real as the tight-nit group supporting Coolinary Café both within and without from farm to table. As Lipman passionately spoke, we felt our own connection to the people and families he has met not just through his word but through the food we just enjoyed. Personally speaking, as the daughter of a 2nd generation citrus grower now retired, I understand all too well the steep decline Florida has made in the last couple decades from being the cornucopia of agricultural and ranch life to just another tourist destination and retirement community. There may not be a Lier Groves, Inc anymore but there are still those who live the dream day by day, crop by crop, ranch by ranch in the hopes of bringing Florida back to the sustainable fold, a fold Tim Lipman and his friends are helping in their own gastronomic way.
Gastronomic and Gastro Pub – just what are these words I keep using? Let me explain with a little help from Wikipedia:
"Gastronomy is the art or science of food eating. Also, it can be defined as the study of food and culture, with a particular focus on gourmet cuisine. One who is well versed in gastronomy is called a gastronome, while a gastronomist is one who unites theory and practice in the study of gastronomy".
And to make sure we are clear, a Gastro Pub specializes in quality cuisine, drink, and atmosphere with a proud tendency to focus on local and sustainable. So to break it down that makes Laura, I, Tim Lipman and staff, and farmers Gastronomes and Coolinary Café a Gastro Pub of proud repute. As a Gastronome rambling about Sustainability and Slow Food, I think one more brief explanation is in order with a little more help from Wikipedia:
"Sustainability is the capacity to endure. For humans, sustainability is the long-term maintenance of responsibility, which has environmental, economic, and social dimensions, and encompasses the concept of stewardship, the responsible management of resource use."
"Slow Food is an international movement that strives to preserve traditional and regional cuisine and encourages farming of plants, seeds and livestock characteristic of the local ecosystem. Slow Food is part of the broader Slow movement whose goals of sustainable foods and promotion of local small businesses are paralleled by a political agenda directed against globalization of agricultural products".
Got it? Good.
After settling into our bar stools (unfortunately far more aesthetic than comfortable), Laura and I browsed the beer selection for a few minutes before settling on a draft Cigar City Ligero Black Lager for myself and a bottle of Little Sumpin' Sumpin' from Lagunitas for Laura. Along with 5 drafts to choose from, Coolinary offers at least a dozen different craft beers in the bottle/can along with a smattering of boutique wines for those who prefer the grape to the grain. Also noted was the lack of any corporate culture whatsoever anywhere on the menu. Fancy a cup of fresh hot tea? Local. In the mood for a soda-pop? Sugarcane is the name of the game, or you can choose a homemade soda. That's right – homemade. Tempting…but Laura and I stuck to our beers of choice that Wednesday afternoon which paired wonderfully with our three small plates:
Housemade Sausage accompanied by pickles, sirracha mustard, and grilled bread.
Boneless Southern Fried Chicken atop a jalapeno cheddar waffle with fresh coleslaw and a lemon wedge for optional zest.
Rabbit tacos cradled in a flour tortilla with fresh coriander and onion.
For anyone who celebrates the left side of their brain, you know that 3 is a magic number, and artistic number, and a perfect portion. I'm not sure which art school Lipman attended, most likely culinary, and as such he too understands the magic of 3. Each of our Lunch portions were plated in 3 – one for me, one for Laura, and the other for many. From the sublimely fresh Housemade Sausage to the classic Southern Fried Chicken to the tender Rabbit Tacos, we celebrated the magic of 3 with each bite savored. Moans, groans, and shivers, OHMY! Sometimes pictures speak louder than words, but sometimes neither pictures nor words can do the experience justice and so I urge, no order you to patron Coolinary Café immediately and savor for yourself the morsels below along with any other offering that tantalizes. With a menu that changes day to day based on what fresh ingredients Lipman reverently secures for that days culinary creations, no experience will ever be the same with the exception of one: fanfreakingtacular food.
Calling Anthony Bourdain, calling Anthony Bourdain. Coolinary Café needs to be your next table of call when you make it down to the Palm Beach Gardens area.
But seriously, I'm no Anthony Bourdain nor do I desire to be. I am the one and only Beer Ambassador. In the years since embracing this alter ego, I have come to understand in what beer-addled capacity my brain has that Beer is so much more than just beer while at the same time maintaining its irreverent place in history as a harbinger of peace and prosperity. Beer – Life without it is not life at all, and the only thing I love more than Beer is my Lady for which both Beer and Food has risen to new heights of unrepentant indulgence. When we leave the solace of our home in search of great food and beer, our expectations are righteously high. We don't want average fare that we can not only cook at home but cook better. We want "The Experience." We want sights, sounds, smells, flavors, atmosphere, and company that can be found nowhere else other then where we are right then and there. Coolinary Café was truly an experience unlike no other, an experience on can only find within.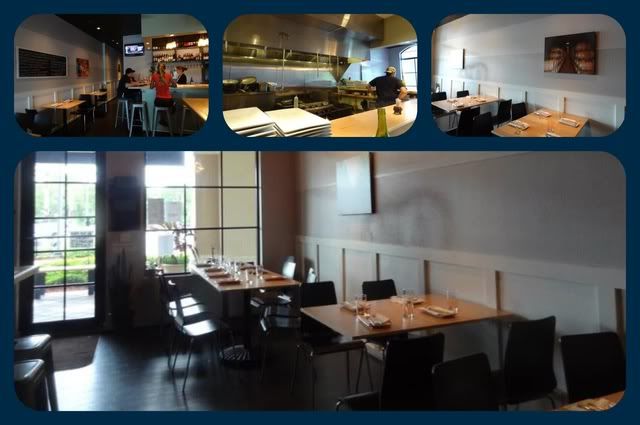 Content in the moment, our desire for something sweet took the form of Lemon Poppyseed Cake to-go which was placed before us in an eco-friendly bio-degradable 100% recyclable cardboard box in an eco-friendly bio-degradable 100% recyclable paper bag.
If I may digress for a moment…
Styrofoam and plastic are an unfortunate and once previously unnecessary evil with a life-span longer than Earth and Time. People joke that cockroaches will long outlive humanity – well, styrofoam and plastic will outlive cockroaches and humanity combine. They never ever go away. Never. Recycling helps but not everyone does it and while recycling is nice, it is not a long-term sustainable solution to the massive impact these oil-reliant products have on our environment, health, and welfare. There needs to be a change. Person by person, house by house, restaurant to restaurant. There needs to be a change.
But I'm here to rave not rant, and rave I shall not just about Coolinary Café but also about the devilishly divine Nutella Bourbon Milkshake from Burger Bar. After Field of Beers, Laura and I ended the evening at the Burger Bar where the burgers were really freaking good and the dessert flavorgasmic. Enter their Nutella Bourbon Milkshake. This was not our first time with Nutella in something culinary that blew our fragile little gastronomic minds. Town Crier Pub actually gets that first credit but Burger Bar comes in a solid second which, after that first night, we just had to experience the orgasm inducing sensation of creamy vanilla ice cream meets chocolaty nutella and sweet bourbon in lip-smacking awe under a billowy blanket of freshly whipped cream.
After assuming our positions at the bar, we first savored a cool pint each of Sierra Nevada Torpedo, a Double IPA of sticky sappy piney caramelized malty West Coast awesomeness. Contrary to earlier skepticism, Burger Bar actually has a pretty nice craft beer selection, mostly bottles, but of their 6 drafts, more than half were craft and that is nothing to sneeze at. I would have preferred my Torpedo in a glass other than a pint, but sometimes you just have to roll with it and roll with it we did right into dessert, the aforementioned Nutella Bourbon Milkshake.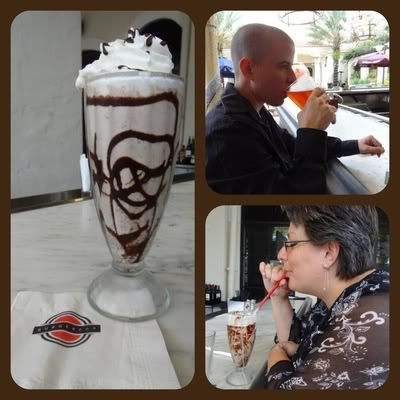 MmMM!
~slurpsipsup~
Wait for it… Wait for it…
Oh yeah, it was good for me, too.
Sated and satisfied, Laura and I headed to home to hearth and family. Thoughts for future visits swirled through our heads along with the potential for future beer dinners and foodie indulgence at Coolinary Café, Burgers at the Bar, and milkshake seduction. It's a hard job but somebody's got to do it and that somebody is yours truly, the Beer Ambassador extraordinaire, Kristyn Lier and Laura Blaney.
(an original written work by Kristyn Lier. plagiarism is not tolerated)